Comments Off

on Things to Consider for an Effective Logo Design
Things to Consider for an Effective Logo Design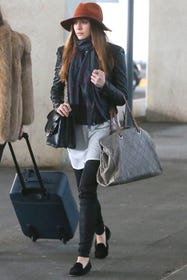 With the growing rivalry in online marketing today, logo design has started playing a pivotal role in establishing identity for a brand. A logo is equally important for an organization that does not have an online presence. But, the significance is more for an online entity. The reason can sought from the fact that you can find a considerably large number of companies offering the same range of products or services on internet. Out of which there are several that have similar brand names, so much so that, many of them have very similar company names. They can only be differentiated based on their website designs and domain TLDs ie. .org, .com, .net., .biz etc. Doesn't it become confusing? Yes, it does. Hence, a logo design is the only thing that proves as an authentic tool for differentiation.
Things to consider for an effective logo design:
Name of the organization/product/service: This is the first thing to consider before getting ready to get a logo design for your business. Be clear whether you need a product specific logo or a brand specific logo. There should not be any confusion about this, as it might result in unhappy results. Remember, a logo carries the essence of your company and brand and you would not be changing your logo design time and again, doing so can hamper your brand's image badly. So do not make haste at all.
Slogans or Punch-lines: It is another important thing that should be taken into account beforehand. Ask yourself the questions like– What all you wish to get included to the logo? Should it have a punch line or slogan? Should it include just the initials of your company's or brand name or the complete name? Answering these questions will give you an idea about of probable logo design.
Color schemes and graphics: This is the time to decide what color schemes or graphics you would like on the logo. As the recent trends, most of the organizations are using a specific color combination as their brand identity. Remember the red on Virgin and the blue on Facebook? The color of your logo is certainly an important part of your its design. Secondly, if you need any specific graphic design or image on your logo, make it clear. For instance, you can use the graphic theme of a house if you are a building or construction company, or a writing pad or pen if your business relates to education.
The message: The final step is to decide what you wish your logo design to convey to the people. As I already said, your logo will be carrying the essence of your business, so it must convey a candid message to your potential customers. Try to make a logo as easier as possible. One should get an idea about the nature of your business, just by having a look on the logo.
Now when you are ready with all these four main aspects of your logo design, approach a professional who you think can carry this responsibility for you. It will be easier for both you and your designer to understand and communicate while designing the logo.